No foreign exchange trader can ignore the importance of news to foreign exchange markets volatility. Geopolitical developments, peace or conflict situations, financial and economic data releases such as macroeconomic figures, and natural disasters all can have a significant impact on forex markets. The highly dynamic, foreign exchange markets need to keep tracking news developments.
Pay close attention to the timing and importance of this news impact, or you will find that this news is already " yesterday news."
30 January, 2023
This is the second cross-border offering from Razorpay, which also allows small businesses to accept international payments from foreign customers.

The dollar firmed on Monday and distanced itself from an eight-month trough ahead of a slew of central bank meetings this week, including the Federal Reserve's, with traders keenly focused on guidance for the path of interest rate rises.
RazorpayX, the business banking platform of fintech unicorn Razorpay Software Pvt. Ltd, has started a foreign exchange service for startups, joining other venture capital-backed startups aiming to solve cross-border payments and disrupting a segment dominated by banks.
RazorpayX, the business banking platform of fintech unicorn Razorpay Software Pvt. Ltd, has begun ... Limited Time Offer - Subscribe now & get free access to The Unicorn report. The year 2021 was a record year for Unicorn activity in India,
Pakistan is in the midst of an "economic meltdown" as its forex reserves dropped by over 40 per cent since the exit of Miftah Ismail and the taking over of Ishaq Dar as the new Finance Minister, reported The Express Tribune.
Petronas Gas Bhd (PetGas) expects the impact of the lower tariffs to be partly mitigated by Tariff C and revenue adjustments, said CGS-CIMB following the group's briefing on Incentive-Based Regulation (IBR) Regulatory Period 2 (RP2,
Most of the lending to NBFIs will take several quarters before being channelled into productive sectors

India's foreign exchange reserves rose by whopping USD 1.727 billion to USD 573.727 billion in the week ending on January 20, according to Reserve Bank of India's latest data. The reserves hit about six-month highs with the latest two consecutive weeks' rise,
Investors are buoyed by the fanfare of trumpets around China's golden week, where holiday tourism and travel data pointed to a solid recovery in the hospitality sector, adding conviction to bullish reopening trade.
How to interpret data
We should only focus on high impact news that has the potential to generate big Forex moves, and it is key for you to know which data is important like:
Interest rate decision
Retail sales
Inflation (consumer price or producer price)
Unemployment
Industrial production
Business sentiment surveys
Consumer confidence surveys
Trade balance
Manufacturing sector surveys
Market Opinions
Any opinions, news, research, analyses, prices, other information, or links to third-party sites contained on this website are provided as general market commentary and do not constitute investment advice. YSI Fx will not accept liability for any loss or damage including, without limitation, to any loss of profit which may arise directly or indirectly from use of or reliance on such information.
Third Party Links
Links to third-party sites are provided for your convenience and for informational purposes only. YSI Fx bears no liability for the accuracy, content, or any other matter related to the external site or for that of subsequent links, and accepts no liability whatsoever for any loss or damage arising from the use of this or any other content. Such sites are not within our control and may not follow the same privacy, security, or accessibility standards as ours. Please read the linked websites' terms and conditions.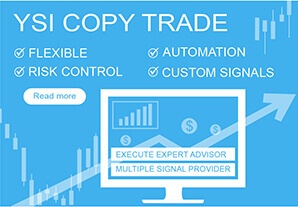 Need Help ?
Please feel free to contact us. We will get back to you with 1-2 business days. Or just call us now
Open Account