No foreign exchange trader can ignore the importance of news to foreign exchange markets volatility. Geopolitical developments, peace or conflict situations, financial and economic data releases such as macroeconomic figures, and natural disasters all can have a significant impact on forex markets. The highly dynamic, foreign exchange markets need to keep tracking news developments.
Pay close attention to the timing and importance of this news impact, or you will find that this news is already " yesterday news."
23 May, 2022
A technical bounce in U.S. stock market futures also pulled the risk-sensitive Australian Dollar up. At 03:17 GMT, the AUD/USD is trading .7094, up 0.0052 or +0.74%. On Friday, the Invesco CurrencyShares Australian Dollar Trust ETF (FXA) settled at $69.
The New Zealand Dollar is edging higher early Monday, bolstered by a weaker U.S. Dollar, loosening lockdowns in China and increasing demand for riskier assets. Short-sellers are also squaring ...
Poor start to week for dollar follows last week's sell-off LONDON, May 23 (Reuters) - The euro rallied on Monday as investors sold the dollar on hopes that loosening lockdowns in China could help global growth.
Forex Award 2022 is the celebration of brokers from around the world pushing the boundaries of innovation and services in forex trading solutions.
The Enforcement Directorate ED has recovered forex worth Rs 153 crore by conducting a search of a person at Kolkata Airport under the Foreign Exchange Manage
IPO-bound EbixCash is upbeat about business prospects with the ebbing of the Covid-19 pandemic and believes that its remittance business will return to pre-Covid level in the next 6-9 months. "Our forex business had completely shrunk during the pandemic.
The awards were dedicated to several notable people and companies, particularly in the Finance and Forex trading domain. And this time, Inveslo's Founder & CEO Mr. Farrukh Adeeb
The Russian rouble strengthened on Monday, heading back towards multi-year highs hit against the dollar and euro last week, supported by capital controls and an upcoming month-end tax period.
Although the Forex pair is vulnerable to a short-term correction due to the build-up in long dollar positions in recent months, we see the move as a temporary correction. The main reasons why the dollar has been strengthening against the Japanese Yen haven't changed significantly so there is still the possibility of a resumption of the rally.

After having registered weekly losses for the first time since early March last week, the US Dollar Index stays on the back foot e
How to interpret data
We should only focus on high impact news that has the potential to generate big Forex moves, and it is key for you to know which data is important like:
Interest rate decision
Retail sales
Inflation (consumer price or producer price)
Unemployment
Industrial production
Business sentiment surveys
Consumer confidence surveys
Trade balance
Manufacturing sector surveys
Market Opinions
Any opinions, news, research, analyses, prices, other information, or links to third-party sites contained on this website are provided as general market commentary and do not constitute investment advice. YSI Fx will not accept liability for any loss or damage including, without limitation, to any loss of profit which may arise directly or indirectly from use of or reliance on such information.
Third Party Links
Links to third-party sites are provided for your convenience and for informational purposes only. YSI Fx bears no liability for the accuracy, content, or any other matter related to the external site or for that of subsequent links, and accepts no liability whatsoever for any loss or damage arising from the use of this or any other content. Such sites are not within our control and may not follow the same privacy, security, or accessibility standards as ours. Please read the linked websites' terms and conditions.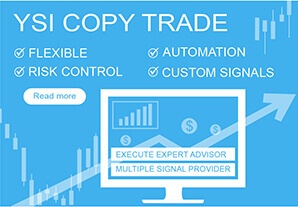 Need Help ?
Please feel free to contact us. We will get back to you with 1-2 business days. Or just call us now
Open Account