No foreign exchange trader can ignore the importance of news to foreign exchange markets volatility. Geopolitical developments, peace or conflict situations, financial and economic data releases such as macroeconomic figures, and natural disasters all can have a significant impact on forex markets. The highly dynamic, foreign exchange markets need to keep tracking news developments.
Pay close attention to the timing and importance of this news impact, or you will find that this news is already " yesterday news."
03 June, 2023
India's foreign exchange reserves fell for a second consecutive week and stood at a one-month low of $589.14 billion as of May 26, the Reserve Bank of India's (RBI) data showed on Friday.
Infinite Venture, a leading forex solutions platform established in 2021, has introduced the Spyker Advanced Indicator, a game-changing tool set to transform the forex trading landscape. This innovative solution empowers traders with objective market analysis,
Louis Casper Dunweber, a renowned billionaire investor and businessman, has set the financial world ablaze with the latest venture, KING AI, a groundbreaking artificial intelligence platform which aims to revolutionize the Forex market with its free FOREX signal services.
Falling for the second consecutive week, India's forex reserves dropped by $ 4.339 billion to $589.138 billion for the week ended May 26, the Reserve Bank said on Friday. In the previous reporting week, the reserves had declined by $6.052 billion to $593.477 billion.

Traze is empowering traders with accessible and transparent CFD and forex trading information. Traze, the most trusted forex platform for CFD and FX trading, is transforming the trading landscape by o
The reserves have been declining as the central bank deploys the kitty to defend the rupee amid pressures caused majorly by global developments.
According to the RBI, for the week ended May 26, the foreign currency assets, a major component of the reserves, declined by $4.014 billion to $520.931 billion
The US Dollar (USD) stays on the back foot early Friday after having suffered heavy losses against its major rivals on Thursday with the US Dollar Index trading below 103.50 in the European morning. The market mood remains relatively upbeat as focus shifts to the US Bureau of Labor Statistics' (BLS) May jobs report,
Falling for the second consecutive week, India's forex reserves dropped by $4.34 billion to $589.14 billion for the week ended May 26, the Reserve Bank said on Friday. In the previous reporting week,
The market breadth for the whole S&P 500 and Nasdaq improved just enough yesterday to carry both sectors higher – as they consolidate sharp gains within their respective rotations. No warning sign of a crash today or Monday really.
How to interpret data
We should only focus on high impact news that has the potential to generate big Forex moves, and it is key for you to know which data is important like:
Interest rate decision
Retail sales
Inflation (consumer price or producer price)
Unemployment
Industrial production
Business sentiment surveys
Consumer confidence surveys
Trade balance
Manufacturing sector surveys
Market Opinions
Any opinions, news, research, analyses, prices, other information, or links to third-party sites contained on this website are provided as general market commentary and do not constitute investment advice. YSI Fx will not accept liability for any loss or damage including, without limitation, to any loss of profit which may arise directly or indirectly from use of or reliance on such information.
Third Party Links
Links to third-party sites are provided for your convenience and for informational purposes only. YSI Fx bears no liability for the accuracy, content, or any other matter related to the external site or for that of subsequent links, and accepts no liability whatsoever for any loss or damage arising from the use of this or any other content. Such sites are not within our control and may not follow the same privacy, security, or accessibility standards as ours. Please read the linked websites' terms and conditions.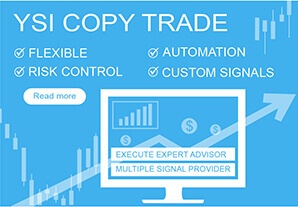 Need Help ?
Please feel free to contact us. We will get back to you with 1-2 business days. Or just call us now
Open Account