One of the key advantages of MetaTrader 4 is the automated trading feature, which enables trading with the help of automated trading robots (Expert Advisors). Trading robots are able to analyze currency quotes and execute trading operations, and removes the emotional trading decisions that can affect the trading accounts of new traders. In other words, MetaTrader 4 can relieve you from routine trading and market analysis.
YSI's Expert Advisor (EA) program offers a greater amount of trade parameters, and takes action when market conditions meet the right criteria as described.
Zero-configuration
Custom initial amount, TP, SL
Fixed lot size, minimize lot size and maximize lot size
Risk percent control for per trade
Stop Out Policy: The account equity falls below the maintenance margin level, the MT4 client displays a red alert to remind client. If the account fails to make an additional deposit to maintain the sufficient margin and the account net value depreciates reach the Stop Out level 80%, in order to prevent further loss to your capital the company reserves the right to automatically close open positions at any time without prior notice to the customer.
Risk Warning: Note that the capital value of, and income from, any investment may go down as well as up and you may not get back the full amount invested. Our service includes products that are traded on margin and carry a risk of losses in excess of your deposited funds. Please ensure that you fully understand the risks involved.
Please read about Risk Warning before you start trading.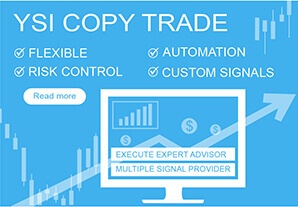 Need Help ?
Please feel free to contact us. We will get back to you with 1-2 business days. Or just call us now
Open Account