Effective date: January 14, 2019
This Cookie Policy applies to any pages and related platforms which are operated by or on behalf of the YSI group of companies.
By using this website, you consent to the use of cookies in accordance with this Cookie policy. If you disable the cookies that we use, this may impact your user experience while on the websites.
Cookies are small text files which are sent to your device when you visit a website.
They are widely used in order to make websites and software applications work, or work in a better, more efficient way. Cookies act as a memory for a website, allowing that website to remember your device on your return visits.
You can find more information about cookies at wikipedia.org/wiki/HTTP_cookie .
We use session cookies which exist only until you close your web browser. For security reasons, we do not use persistent cookies which exist for a longer, specified period of time.
Essential Cookies

These cookies are essential to the operation of the YSI in order to run our website and provide our services.

The Cookie We Set

Account related cookies, Login related cookies and Forms related cookies.

Third party Cookies

We may work with third parties to provide services on the YSI. Third-party may use their own cookies to collect information about your activities on the YSI websites you have clicked on.
These cookies are not in our control. To disable or reject third-party cookies, please refer to the relevant third party's website.
Most internet browsers are initially set up to automatically accept cookies. You may refuse to accept cookies from the YSI or third parties at any time by activating the setting on your browser which allows you to refuse cookies. All modern browsers allow you to change your cookie settings, you can usually find these settings in the options or preferences menu of your browser.
Cookie settings in Internet Explorer and Edge
Cookie settings in Firefox
Cookie settings in Chrome
Cookie settings in Opera
Cookie settings in Safari web and iOS
More detailed guidance can be found at www.aboutcookies.org .
We may update our Cookie Policy from time to time. We will notify you of any changes by posting the new Cookie Policy on this page.
It is your responsibility to ensure that you are aware of any modifications or updates made to our privacy policy on this page, if you have any questions about this Cookie Policy, please contact us.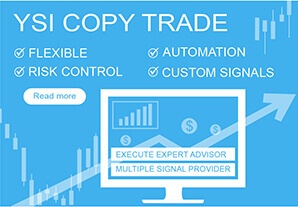 Need Help ?
Please feel free to contact us. We will get back to you with 1-2 business days. Or just call us now
Open Account