Effective date: June 03, 2019
YSI Fx respects the privacy of every individual who visits its websites and complies with applicable privacy laws.
Any information collected about you will be used to perform service you might request. This information may include such as your personal data, name, date of birth, gender, address, internet protocol IP address. YSI's purpose in to inform you about new service or advice and also to improve how we serve you.
We may engage another business consultant to help us improve our services to you, such as account management, client service and client satisfaction surveys. To ensure that you are always kept up to date with our latest information and client services.
YSI Fx uses the collected data for various purposes:
To provide and maintain the Service
To notify you about changes to our Service
To allow you to participate in interactive features of our Service when you choose to do so
To provide customer care and support
To provide analysis or valuable information so that we can improve the Service
To monitor the usage of the Service
To detect, prevent and address technical issues
The information we share with affiliates may include any of the information described above, such as your name, gender, address, trading and account information. YSI Fx and affiliates maintain the privacy of your information to the same extent in accordance with this Policy.
YSI will not share or loan and personal information about you to any third party without your consent, except as described in this Policy. The transfer, storage and processing of data collected through this website is secured by AES256 encrypt measures. This ensures the data we hold about you is processed lawfully and fairly.
YSI Fx may disclose your Personal Data in the good faith belief that such action is necessary to:
To comply with a legal obligation
To protect and defend the rights or property of YSI Fx
To prevent or investigate possible wrongdoing in connection with the Service
To protect the personal safety of users of the Service or the public
To protect against legal liability
If you are a resident of the European Economic Area (EEA), you have certain data protection rights. If you wish to be informed what Personal Information we hold about you and if you want it to be removed from our systems, please contact us.
In certain circumstances, you have the following data protection rights:
The right to access, update or to delete the information we have on you
The right of rectification
The right to object
The right to restriction
The right to data portability
The right to withdraw consent
You have the right to see what is held about you and correct any inaccuracies. Please send an email to service@ysifx.com in case you have any questions.
This website contains links to other sites. Please be aware that we are not responsible for the content or privacy policy of such other sites. We encourage our users to regularly read the Privacy Policy for these sites before you access or use any services on third party websites.
We may update our Privacy Policy from time to time to take account of new laws and technology, and changes to our operations and the business environment. We will notify you of any changes by posting the new Privacy Policy on this page.
It is your responsibility to ensure that you are aware of any modifications or updates made to our privacy policy on this page, if you have any questions about this Privacy Policy, please contact us.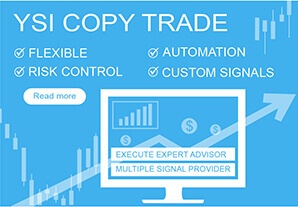 Need Help ?
Please feel free to contact us. We will get back to you with 1-2 business days. Or just call us now
Open Account