No foreign exchange trader can ignore the importance of news to foreign exchange markets volatility. Geopolitical developments, peace or conflict situations, financial and economic data releases such as macroeconomic figures, and natural disasters all can have a significant impact on forex markets. The highly dynamic, foreign exchange markets need to keep tracking news developments.
Pay close attention to the timing and importance of this news impact, or you will find that this news is already " yesterday news."
27 January, 2021
The dollar climbed to a one-week high against its rivals on Tuesday as doubts over the speed and size of U.S. stimulus discouraged risk-taking ahead of this week's Federal Reserve policy meeting. LONDON,
"We expect the Fed to reiterate a dovish policy signal," said MUFG currency analyst Lee Hardman in a note to clients. "The Fed is likely to re-emphasize that it is still too early to talk about slowing the pace of quantitative easing

Rebound in risk sentiment pulls sterling higher (New throughout, updates prices, market activity, comments to U.S. market open; previous LONDON)

India is set to run a mild surplus on its current account this quarter and in the fiscal year from April. With inflows on the capital account, that should lead to a sizable surplus on the balance of payments.

The dollar held at a one-week high on Tuesday as doubts over the speed and size of U.S. stimulus discouraged risk-taking in currency markets, with the Chinese yuan the only notable exception.
Gold advanced intraday, but demand for the greenback weighed, with the bright metal ending the day unchanged at $1,855 a troy ounce. Crude oil prices posted a modest intraday advance, but held within familiar levels.

Let's recap the week's gentle rumblings on FX from policy makers, before shedding light on CNH below, says Adam Button of ForexLive.c
The markets are drifting this morning as investors hang on to gains but have growing concerns over the vaccine rollout, weak data, the Republican push back on the US stimulus package and the potential for an election in Italy.

The Stellar Development Foundation has invested in blockchain payments firm Wyre to boost support for financial apps in Stellar's ecosystem.

Indian astrologer Shri Rajeev Prakash Agarwal launches "Annual Letter 2021" - the market predictions book. Various asset classes have been covered by this innovative book based on astrology. The core feature of predictions is the timeline format.
How to interpret data
We should only focus on high impact news that has the potential to generate big Forex moves, and it is key for you to know which data is important like:
Interest rate decision
Retail sales
Inflation (consumer price or producer price)
Unemployment
Industrial production
Business sentiment surveys
Consumer confidence surveys
Trade balance
Manufacturing sector surveys
Market Opinions
Any opinions, news, research, analyses, prices, other information, or links to third-party sites contained on this website are provided as general market commentary and do not constitute investment advice. YSI Fx will not accept liability for any loss or damage including, without limitation, to any loss of profit which may arise directly or indirectly from use of or reliance on such information.
Third Party Links
Links to third-party sites are provided for your convenience and for informational purposes only. YSI Fx bears no liability for the accuracy, content, or any other matter related to the external site or for that of subsequent links, and accepts no liability whatsoever for any loss or damage arising from the use of this or any other content. Such sites are not within our control and may not follow the same privacy, security, or accessibility standards as ours. Please read the linked websites' terms and conditions.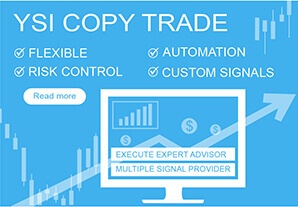 Need Help ?
Please feel free to contact us. We will get back to you with 1-2 business days. Or just call us now
Open Account