No foreign exchange trader can ignore the importance of news to foreign exchange markets volatility. Geopolitical developments, peace or conflict situations, financial and economic data releases such as macroeconomic figures, and natural disasters all can have a significant impact on forex markets. The highly dynamic, foreign exchange markets need to keep tracking news developments.
Pay close attention to the timing and importance of this news impact, or you will find that this news is already " yesterday news."
27 September, 2022
The Reserve Bank of India may have to resort to tried and tested measures to shore up its foreign exchange reserves, including encouraging non-resident Indians to deposit more funds, as it looks to stabilise a steadily declining rupee,
Trading in tumultuous foreign exchange markets is akin to being in a casino right now, according to some traders navigating markets that have been whipsawed as central banks and governments try to right their economies.
The dollar on Tuesday took a pause in what has been a relentless climb higher as the euro and even the besieged Japanese yen and British pound managed to recover a little ground, but medium-term fundamentals were still in the greenback's favour.
Moneta Markets has announced that after launching into the CFD broker industry under the umbrella of the Vantage Group, they are embarking on a path of their own with a team of new investors. Having recently acquired three new licences of their own to operate under independent entities regulated in various jurisdictions worldwide.
In addition to stock and bond market information, the nightly financial news usually offers information about the currency exchange rate between the U.S. dollar and various foreign currencies, such
The Reserve Bank of India may need to find ways to replenish its foreign exchange reserves such as encouraging non-resident Indians to deposit more funds, as it looks to stabilise a depreciating rupee,
The reserves, which have been dipping as the central bank deploys the kitty to defend the currency amid a pressure caused majorly by global developments, had declined by USD 2.23 billion to USD 550.87 billion in the previous week.
Economic affairs secretary Ajay Seth on Tuesday dismissed the concerns over depleting foreign reserves as overblown' and said that India has fairly large reserve to tide over the current situation. Forex reserves were down for the seventh time,
Barua said that the central bank may need to think of ways to bulk up its forex reserves, should the pool shrink to near $500 billion in the coming months. "The central bank should intervene to ensure that a falling currency does not eclipse India's fundamentals,
Note that these rates may be different at a forex bureau near you. Our forex bureau rates are provided by Afriswap Bureau De Change in Osu, Accra. On the Interbank forex rates from the Bank of Ghana today,
How to interpret data
We should only focus on high impact news that has the potential to generate big Forex moves, and it is key for you to know which data is important like:
Interest rate decision
Retail sales
Inflation (consumer price or producer price)
Unemployment
Industrial production
Business sentiment surveys
Consumer confidence surveys
Trade balance
Manufacturing sector surveys
Market Opinions
Any opinions, news, research, analyses, prices, other information, or links to third-party sites contained on this website are provided as general market commentary and do not constitute investment advice. YSI Fx will not accept liability for any loss or damage including, without limitation, to any loss of profit which may arise directly or indirectly from use of or reliance on such information.
Third Party Links
Links to third-party sites are provided for your convenience and for informational purposes only. YSI Fx bears no liability for the accuracy, content, or any other matter related to the external site or for that of subsequent links, and accepts no liability whatsoever for any loss or damage arising from the use of this or any other content. Such sites are not within our control and may not follow the same privacy, security, or accessibility standards as ours. Please read the linked websites' terms and conditions.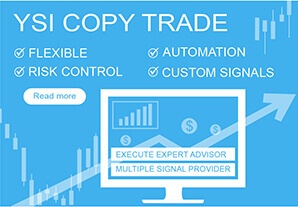 Need Help ?
Please feel free to contact us. We will get back to you with 1-2 business days. Or just call us now
Open Account