Effective date: August 22, 2018
Definition
Some Financial Institutions performs all the required measures in accordance with applicable law and regulations, issued by regulatory authorities. At a minimum, this program must include internal policies, procedures and controls to deter, detect, and report suspicious activity, a designated compliance officer, and an internal audit to test compliance. To the extent required YSI Fx has implemented such a program.
Money Laundering is the involvement in any transaction or series of transactions that seek to conceal or disguise the nature of source of proceeds derived from illegal activities, including drug trafficking, terrorism, organized crime, fraud, and many other crimes. Predicate offences for money laundering are defined by local law.
Policy Statement
The YSI Fx Anti-Money Laundering Policy (AML) is designed to prevent money laundering by meeting the AML legislation obligations including the need to have adequate systems and controls in place to mitigate the risk of the firm being used to facilitate financial crime. Failure to adhere to this Policy may subject YSI or its affiliates employees to disciplinary action up to, and including, termination of employment.
This AML Policy sets out the minimum standards which must be complied with and includes:
The appointment of a Money Laundering Reporting Officer (MLRO) who has sufficient level of seniority and independence and who has responsibility for oversight of compliance with relevant legislation, regulations, rules and industry guidance.
Establishing and maintaining a Risk Based Approach (RBA) towards assessing and managing the money laundering and terrorist financing risks to the company.
Establishing and maintaining risk-based customer due diligence, identification, verification and know your customer (KYC) procedures, including enhanced due diligence for those customers presenting higher risk, such as Politically Exposed Persons (PEPs).
Establishing and maintaining risk based systems and procedures to monitor on-going customer activity.
Procedures for reporting suspicious activity internally and to the relevant law enforcement authorities as appropriate.
The maintenance of appropriate records for the minimum prescribed periods.
Training and awareness for all relevant employees.
Customer Identification
Before activating a client's trading account, the company ensures that client provided all necessary information and has finished an identity verification procedure. YSI Fx will provide notice that they will seek identification information, collect certain minimum customer identification information from each customer, record such information and the verification methods and results.
The following information will be collected for all new applications:
Name
Date of birth
Residential or business address
Passport number and country of issuance
YSI Fx will document the user verification and the records may be maintained in either electronic or hard copy for a length of time required by law, including all identifying information provided by the customer, the methods used and results of the verification, including but not limited to sign-off by the appointed producer of matching photo identification.
Suspicious Transactions
Suspicious transactions are those that have no business or apparent lawful purpose, are unusual for the customer, or lack any reasonable explanation.
Monitoring and Reporting
Transaction based monitoring will occur within the appropriate business units of YSI Fx. Monitoring of specific transactions will include but is not limited to transactions aggregating $5,500 or more and those with respect to which YSI Fx has a reason to suspect suspicious activity. All reports will be documented.
Deposit and Withdrawal
YSI Fx has established strict requirements for depositing and withdrawing funds to and from clients' trading accounts.
Only methods that allow identifying the client can be used to fund the trading account. These methods include bank wire transfers, payment cards, and some other. YSI Fx requires all deposits, where the name of the originating customer is present, to come from the name matching the name of the customer in our records. Third party payments are not accepted.
Our Compliance Regime
YSI Fx declares that for the purpose of following the anti-money laundering policy, the money transfers made by the Company's clients are allowed only in the aim of trading operations directed to deriving profits within the range of the services offered by the Company. YSI Fx has the right to refuse from processing the transfer at any stage in case the transfer is connected to criminal activity or money laundering in any way.
Our staff educated to assure that we are well-equipped to combat money laundering and other financial crimes, may reject a withdrawal and require further information to verify if the person who requested the withdrawal is the real owner of the account. All the actions taken by the company with a purpose to prevent, detect and mitigate money laundering and terrorism financing, are conducted in concordance with the international AML laws and special recommendations and methodologies associated with the money remittance and currency exchange sector, including appointment of a compliance officer, preparation of policies and procedures, periodic review of their effectiveness.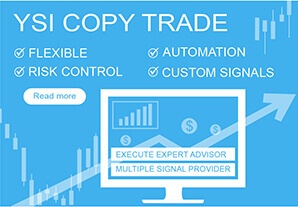 Need Help ?
Please feel free to contact us. We will get back to you with 1-2 business days. Or just call us now
Open Account