Effective date: March 27, 2020
This Risk Warning is to provide a wide stakeholders circle with information about the trading risks. Before deciding to participate in the Forex market, it is important to understand the risks and should carefully consider the investment objectives, risk appetite, level of experience and capital capability. First of all, identify the purpose of your investment and never investment sum, losing of which will cause a negative impact on your budget. Please seek professional advice from an independent financial advisor if you have any consulting needs.
Trading foreign exchange on margin is a high level of risk and may not be suitable for all investors. It enables investors to achieve high potential profits but also increases the risk of high potential losses.
The effect of leverage allows you to trade larger amounts of money than deposit. Some traders choose a big size of leverage to operate bigger sums, a big volume of traded funds may bring great profit because of the leverage, but higher leverage also increases the risk of high losses.
Past investment performance is not necessarily indicative of future results, the possibility exists that investors could sustain a loss of some or all of the initial investment and therefore, should not invest amount that cannot afford to lose. Investors should be aware of all the risks associated with Forex trading, including but not limited to leverage, creditworthiness and market volatility.
Please note that due to the diversity of situations may arise in the markets, the list of YSI Fx provided the risks set out in this Risk Warning is not exhaustive and does not disclose all the risks associated about CFDs or Futures Contracts.
The account equity falls below the maintenance margin level, the MT4 client displays a red alert to remind client. If the account fails to make an additional deposit to maintain the sufficient margin and the account net value depreciates reach the Stop Out level 80%, in order to prevent further loss to your capital the company reserves the right to automatically close open positions at any time without prior notice to the customer.
The placing of certain orders such as stop loss or stop limits orders that are intended to limit losses to certain amounts may not always work because market conditions or technological limitations may make it impossible to execute such orders. Trader using such these orders do accepting this risk.
Various situations, developments or events may arise over a weekend when the markets generally close for trading, that may cause the markets to open at a significantly different price from where they closed on Friday afternoon. If the market opens with a large gap on the subsequent day, then it may result in a huge loss to the trader.
The trader acknowledges that the only reliable source of quotes is that of the live server feed. When working with the trading client terminal, you assume the risks arising from:
Failures in trader hardware, software and internet connection.
Errors in trader trading client terminal settings.
Failures to update trader version of the trading client terminal to the latest version.
Trader disregarding the applicable rules described in the trading client terminal user guide and in the website.
There are risks associated with utilizing an Internet-based deal execution trading system including, but not limited to, the failure of hardware, software, and Internet connection when traders through the internet.
We are not responsible for errors that occur in the operation of the trading client terminal and will not compensate losses resulting from errors in the operation of the trading client terminal.
The Client acknowledges that under Abnormal Market Conditions the period during which the Instructions and Requests are executed may be extended or may not be executed at all.
YSI Fx has taken reasonable measures to ensure the accuracy of the information on the website, but does not guarantee accuracy. No single source of information, including ysifx.com, should be used as the sole basis for any financial decision.
YSI Fx does not provide investment advice and is an execution only trading platform. Any opinions, news, research, analyses, prices, other information, or links to third-party sites contained on this website are provided as general market commentary and do not constitute investment advice. YSI Fx will not accept liability for any loss or damage including, without limitation, to any loss of profit which may arise directly or indirectly from use of or reliance on such information.
The content on this website is subject to change at any time without notice, and is proved for the sole purpose of assisting traders to make independent investment decisions.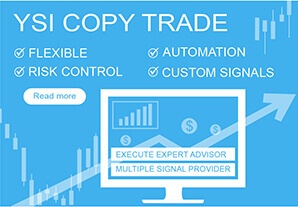 Need Help ?
Please feel free to contact us. We will get back to you with 1-2 business days. Or just call us now
Open Account