Forex Q&A
Opening an account with YSI Fx is easy, fast and paperless. You shall start by applying online through YSI Fx's website www.ysifx.com.
We will process the opening of your live account within 2 business days from the time we receive the necessary supporting documents. No administration fees will be charged.
We will need you to provide us with your name, address and tax ID number to establish your identity.
No, account opening documents are only to be accepted online.
No. US CTFC regulation prevents US clients from trading with non-US brokers, as such we regret that we are unable to accept US clients.
The minimum initial deposit required is at least US$2,000. To allow you more flexibility and better risk management when trading your account.
We will email you as soon as your application has been approved. Alternatively, you can always log into your Member area to check on the status of your account application.
Acceptable documents for identity verification include but are not limited to:
Valid, current passports (must contain a specimen of the signature of its holder)
Valid national IDs
All the photocopy and picture must be clearly readable. Other types of ID may be acceptable on a case-by-case basis after review.
To be accepted as a verification of address, a document must show both your name and address as indicated on your application.
Acceptable forms of proof of residence include but are not limited to:
Government-issued photo identification
Utility bills
Bank or credit card statements
Utility bills and statements must be dated within the last six months. Confidential information such as account numbers may be removed at your discretion.
No, if your proof of identification document has your address on it, it can only be used as either ID or proof of residence. Please provide other documents for identity verification.
The fastest way to provide documentation is to follow the instructions when signing up for an account.
You can also email or mail us your documentation:
Email: service@ysifx.com
YSI Fx has staff available to translate documents from many languages.
Yes, both account holders must provide a government-issued photo ID and documentation for proof of address also must be verified for both applicants.
Login and temporary password are sent to new clients via email after the account has been activated.
If you forgot your username and password, please send us an email with clear personal account information for assistance. Contact email: service@ysifx.com
Log into member area, go to your Account Settings and select Profile to change your information or contact us at service@ysifx.com indicating your request.
You can logging in to member area to apply deposit your fund and then go to your bank for fund transfer to YSI Fx. You may be charged a cross-border fee or currency conversion fee by your issuing bank. YSI Fx does not charge incoming wire fees. However, your bank may charge a service fee. Wire transfers that involve a bank outside the US, may require an intermediary US bank. Intermediary banks may charge a transaction fee.
Please note: YSI Fx cannot accept deposits from third parties. You may experience longer processing times if the name on the originating account does not match your YSI Fx account.
Withdrawals can be submitted through member area and are processed in the order funds were received. Funds are returned to the account by Bank Transfer. YSI Fx does not charge incoming wire fees. However, fees may be applied by receiving bank Wire transfers that involve a bank outside the US, may require an intermediary US bank. Intermediary banks may charge a transaction fee.
Please note: YSI Fx not accept withdrawal to third parties.
A withdrawal of funds will result in a reduction of funds available to be used for margin to maintain open positions. This may result in the liquidation of any or all of my open positions. It is your responsibility to ensure that the account holds enough margins to maintain open positions.
All withdrawal requests will be processed within 2 business day. The time taken for the funds to be received by the beneficiary will depend on the withdrawal method used. Bank wire withdrawal process usually take 5 business days.
You can logging in to member area to apply internal transfer for your accounts.
YSI Fx cannot transfer funds to third party trading accounts, but only between accounts registered in your name.
YSI Fx's policies prevent any person other than the account holder(s) from accessing or trading an account unless the trader has been reviewed and approved as a Money Manager.
Market order is an order to buy or sell an instrument at current market price. Market orders are executed according to bids and offers available in the market depth, which indicates volumes available for each price level. Our foreign exchange, gold, and silver price quotes are derived from prices provided to us by selected top global banks in the wholesale foreign exchange, gold and silver markets.
Yes, you can place a pending order via the main 'Order' window in MT4. Simply change the 'Type' from 'Instant Execution' to 'Pending Order'. A drop-down menu will then appear that will ask you to specify whether the pending order you are about to place is a Buy Limit, Sell Limit, Buy Stop or a Sell Stop Order, and will allow you to set limit price and expiry date and time.
Open positions and placed orders will not be closed even when you are offline. All the open positions will remain active even if you are logged out of your trading platform as the orders will be active on the server side. If you wish to close the orders, you will have to manually close each position on your trading platform.
No. all trading orders are executed fully automatically by the trading system. Order execution is STP (Straight-Through Processing) without any human intervention.
You are responsible for monitoring your account and maintaining 100% of required margin at all times to support your open positions.
If at any point, the equity available drops below 100% of the margin required you will be subject to auto liquidation of the position incurring the largest loss. Liquidation of other open positions will continue until sufficient margin is maintained in the account.
If you are still unsure why your position was closed, please contact us.
The smallest available trade size is 1,000 units for currencies. (equivalent to 0.01lots)
Slippage is when an order is executed at a price other than the requested price. Our quoted prices are executable the majority of the time. In fast-moving markets, for example during major news or announcements which is similar to when a market gap occurs, and orders may be executed at a price which has ceased to be the best market price. Your orders will be filled with the best available market price provided by our liquidity providers.
Leverage is the ability to control a large position with a small amount of capital. It is usually denoted by a ratio. For example, if your account has a leverage of 100:1, that means you can trade a position of $100,000 with only $1,000. YSI Fx offers a leverage ratio up to 1:200 during business days. Please note that increased leverage increases risk.
Margin is equity from your account set aside by YSI Fx to maintain a position when you're trading on leverage.
Our margin requirements differ according to market, asset class and position size. You can find the specific margin of each instrument in its platform for a list of margin requirements by product.
To calculate the amount of funds required to cover the margin requirement when you open a trade, simply multiply the total notional value of your trade (quantity x price of instrument) by the margin factor.
With YSI Fx platforms, you can calculate the required margin before placing a trade through the platform's margin calculator, monitor each position's margin requirement separately or review your account's total margin requirement.
Real-time margin system is designed to limit your trading losses and help ensure that total losses never exceed your total account balance; however, during periods of extreme market volatility, the negative account may occur. YSI Fx reserves the right to hold clients responsible for large debit balances and when special circumstances apply. For this reason; therefore, we strongly encourage you to manage your use of leverage carefully.
Rollover rates are based on the interest rate differential of the two currencies and the spot price. You can also access our rollover rates directly from our trading platforms. This interest can be positive or negative, depending on the difference in rates between the base and the quote currencies. Check each symbol's specification, there are indicate clear information.
Rollovers are processed daily at 5:00pm ET, at which time any open positions will be rolled and a debit or credit applied to your account. We do not charge rollover on intraday trades.
Rollovers are not applied to intraday trades. No interest is paid or received if you open and close a position within the same trading day after 5pm ET and before 5pm ET the following day.
Intraday positions are all positions opened anytime during the 24-hour period after the close of YSI Fx's normal trading hours at 5pm ET. Overnight positions are positions that are still on at the end of normal trading hours (5pm ET), which are automatically rolled by YSI Fx at competitive rates (based on the currencies' interest rate differentials) and applied directly to your account balance.
At YSI Fx, rollovers for positions held over the weekend will be posted on Wednesday, as is standard in the industry; as a result, the rollover applied on Wednesday will be for three days of rollover interest.
A holiday rollover will occur when the currency traded has a major holiday and the banks are closed. A holiday rollover will typically be applied two days before the holiday.
Yes, trading conditions may differ between the environments. This might relate to the list of tradable instruments, trading settings etc. YSI Fx will strives to ensure that trading conditions on DEMO and LIVE are aligned as much as possible; however, differences still might appear. This is especially likely to happen when new trading instruments are being released and tested or when special trading conditions are applied to specific instruments.
In times of high market volatility, the market may not be as liquid as usual. Hence, your orders will be filled with the best available market price, as quoted by our liquidity providers.
A trader will receive a warning (Margin Call) when the account's Equity has slipped past the required margin level.
Stop Out is a level at which all of the trader's orders will be closed due to the critically low Equity level to prevent further account losses.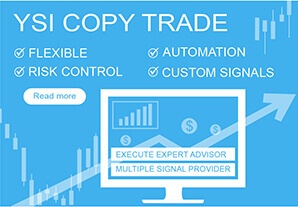 Need Help ?
Please feel free to contact us. We will get back to you with 1-2 business days. Or just call us now
Open Account